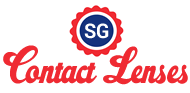 Singapore Online Contact Lenses (SGCONS) is dedicated to providing you with a simple, hassle-free way to replace your contact lenses. You can shop with confidence when buying your contact lenses at an affordable price from sgcontactlens.com.
At SGCONS, we have the most variety of contact lenses. This is not only top brands of ACUVUE, SofLens, Dailies, Clariti, Biomedics, but also has exclusive brands of SEED, CandyMagic, CalmeD'or, Delight!
We offer 'Buy More Save More' pricing so you can really stretch your contact lens dollar. Our goal is to provide a happy shopping experience for all of our valuable customers.
Available Brands at Singapore Contact Lenses
Why Chooses Singapore Contact Lenses
Free Shipping on order total amount over S$40
Easy & convenient order at Website, WhatsApp, Phone, Email, FB, Line, WeChat
Buy More Save More with all top brands
Short processing time and fast delivery with 80% of orders coz of our big warehouse