Singapore Contact Lenses – Alternative Contact Lenses for ACUVUE
There are many reasons why you may want to change the brands of your contact lens. Change is for the better. Change is inevitable. Change is coming!
For whatever reason you may have, choosing the best contact lens for your needs should be your priority. There are different reasons why a person thinks of changing his brand of contacts and they are as follows:
Durability – a lens can be changed regarding how you may want to wear it. So you must know the length of time you can use a certain pair of contacts. There can be daily disposables, bi-weekly or even monthly replacements. Change brands as often as you like so you may find what will best suit your needs for every day.
Price – it is a must to consider brands which are cheaper than most in the market but be careful in buying. Make sure you purchase in legitimate optical shops. There is nothing wrong with looking for cheap brands but make sure it will not compromise your vision and the comfort you need while wearing these contact lenses.
Style – times have changed truly because through online shops we can get what contact lens we want based on the looks and style we want to achieve. Contact lenses nowadays come with different styles and colors that can enhance your appearance and complement your looks.
Comfort – This is the ultimate reason why you need to experience changing brands. If you feel uncomfortable with your contact lenses, make sure to change brands. But if the condition persists, have your eyes checked by eyecare professionals. Be accurate to get your eye grade or power so that you can purchase online if you want discounts and hassle free shopping.
ACUVUE ALTERNATIVES
ACUVUE by Johnson & Johnson is not the only popular contact lens brand. Let us find out which among the following recommendations are at par with ACUVUE.
The following sections of this article will take up mostly by comparisons of contact lenses' brands which will make us knowledgeable in choosing our next contact lens brand.
Which is the Best Cost Efficient – Powerful Performance Contact Lens' Brand?
Finding more about the contact lenses available in the market makes a consumer and contact lens wearer a smart buyer! The following brands can be purchased online but be sure you have your eye power checked by an eye professional to make the most out of these contacts.
The Battle Between Daily Contact Lenses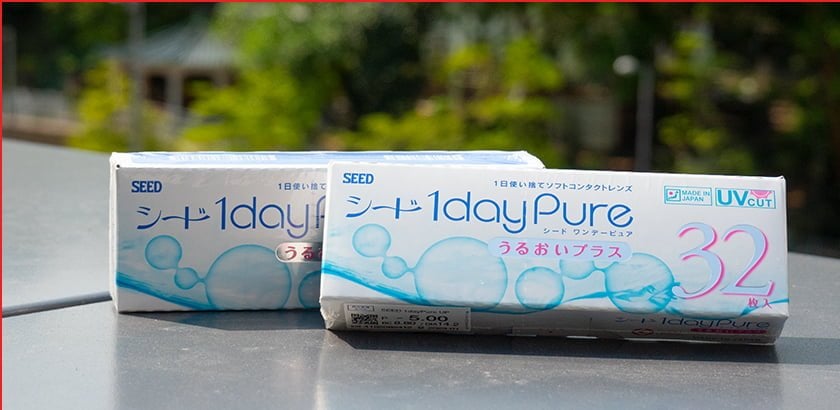 Comparison #1 – Acuvue Moist VS SEED 1 Day Pure VS CooperVision Proclear
ACUVUE Moist 
ACUVUE Moist is a daily disposable contact lens that offers an excellent mix of comfort and performance. Its LACREON technology, which includes an integrated wetting ingredient, produces a moisture cushion that lasts for a long time. ACUVUE Moist for Astigmatism also offers strong UV-blocking levels to defend against UV transmission.
SEED 1 Day Pure Advantage: 32 Pieces, Best CP (Cost Performance)
SEED 1Day Pure Moisture is a daily disposable soft contact lens produced in Japan that contains the natural moisturizing ingredient "Alginic acid." This technology keeps your eyes moist and pleasant throughout the day. Aside from that, the SEED Ionic Bond texture helps to keep moisture in the lenses and provides a soothing sensation throughout the day. The box contains additional two contact lenses compared to ACUVUE Moist and Proclear.  
Proclear 1 Day by CooperVision Advantage: Comfortable wear compared to ACUVUE Moist
Proclear 1 Day contact lenses from CooperVision promote oxygen flow in order to keep the eyes of the patient clear. Even after 12 hours of use, they maintain a 96 percent hydration level making it the most comfortable to wear among the lenses I have tried.
Comparison #2 – Acuvue Oasys 1 Day VS Dailies Total 1 VS Dailies Precision 1
Acuvue Oasys 1-Day Advantage: Has 121DK/t
Eye-Inspired Design and HydraLuxe Technology are used for ACUVUE OASYS 1-Day. This unique technology offers outstanding patient comfort in challenging surroundings. The lens features an improved tear-like network that supports a steady tear film and helps with weary eye and drying sensations. It has a high oxygen permeability which makes eyes healthy.
Dailies Total 1 Advantage: More Comfortable, higher DK/t (156DK/t) No UV Blocking
DAILIES TOTAL 1 water gradient contact lenses feature the highest surface lubricity and breathability of any daily disposable contact lens, providing outstanding comfort that lasts until the end of the day. It is so comfortable which makes it seem like no lens is there at all! The downside is that it has no UV blocking properties.
Dailes Precision 1 Advantage: 100DK/t UV Blocking
PRECISION1® contact lenses are such little impactful contact lenses with great, innovative science weaved into their DNA. Each lens with SMARTSURFACE® Technology has a thin layer of moisture on the surface that is made up of more than 80% water. These lenses are comfortable to wear with 100 oxygen permeability equipped with UV Blocking!
The Contest of Monthly Replacement Contact Lenses – Acuvue Vita VS CooperVision's Biofinity
Acuvue Vita
ACUVUE VITA contact lenses have innovative HydraMax Technology and Silicone Hydrogel. It outperforms other monthly contact lenses in terms of comfort throughout the month. They developed for improved, dependable comfort from week 1 to week 4 by maximizing and sustaining hydration throughout the lens.
UV protection is offered, and HydraMax Technology aids in the maximization and maintenance of hydration throughout the lens, resulting in long-lasting comfort throughout the month.
Biofinity Advantage: Higher CP (Cost Performance), lower price
Biofinity contact lenses enable a lot of oxygen to get to your eyes. Their innate wettability will not wash away. You'll have superb eyesight thanks to a soft, comfy lens that's better for your eyes. These Contact Lenses are affordable, economical and powerful! While wearing these lenses, I can say that I maximized the use for the whole month.
Sum Up!
Now that we have reached the end of this article, I hope I helped you decide what alternatives you can use if you want to switch brands. As a contact lens wearer, I can assure you that reading lots of these articles can help you make up your mind in choosing what is the best for you.
And as I have stated above, please make sure that you consult your eye care professional before purchasing to ensure that your eye power is correct because that will help you maximize the use of contact lenses. Purchase online at Singapore Contact Lenses for authentic contacts!
The choices above are available at SG Contact Lens' Optical site. Please check it out! Additionally, If you want to know more about Contact Lenses, click here for other articles.